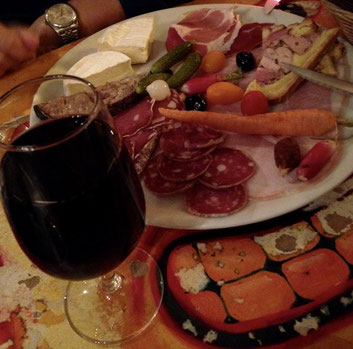 Which says gastronomy says good wine !
What is most pleasant than go to have a drink in a wine bar, before or after going to a show, a walk in Lyon,   to have a good time.
Here is a wine bar selection  which mixes good atmosphere and  quality.
During your trip in Lyon, Let's go to test one of those wine bar ! 
L'Aromo
Lovely Surrounding  where you can lounge in a club chair,  a decoration between   modern and old fashioned… a cosy atmoshere perfect to taste a wine  from Rhone alpes, or Burgony or somewhere else with a gourmet plate
Welcome and advices are perfect  !
Address : 15 rue de Montesquieu 69007 Lyon
Phone : 06 66 21 93 99 Open from  Tuesday to Saturday 6pm – 1 am
Le café des mauvais garçons
Near Gadagne museum, in the heart of the old Lyon,  at St Jean district … in  summer, we can lounge in terrace  !
A charmy  and cosy decoration,  fresh product to be served with wine degustation
A simple cooking but refined .
A charmy welcome.
Address : 2 place du Petit Collège 69005 Lyon
phone : 04 72 31 02 93
Open from Tuesday to Saturday 6.30 pm – 1 am
La cave des voyageurs
Another nice place near  St Paul district two steps from Terreaux place and Opera area.
Cold cuts, cheese, foie gras, fruits and vegetables from market ! only fresh product high quality.
Quality advices for tasting ! wine for every body and every budget !
Address : 7 place St Paul 69005
phone : 04 78 28 92 28
It's possible to privatize it
Open from Tuesday to Saturday   5 pm to 1 am
Le Phosphore
We climb on Fourvière hill to have a look on wonderful view of Lyon and we take advantage  to havea walk on famous TETEDOIE wine bar !
View is so beautiful, teh welcome is select, pleasant  and professional !
Quality  Products, plates or menus, refined and afamous wien cellar.
Address : 1 rue de l'Antiquaille 69005 Lyon
phone : 04 78 29 41 28
Open from Monday to Saturday 6 pm to 1 am
It is Possible to privatize it
La cave d'à côté
This Bar, not so easy to find it, it's hided in a very little street near St Nizier church.
Surrounding is so cute,  it begins by the front door covered with roses and when you go inside, we seemns to be at home. The welcome is so charmy.
They offers cheese and cold  cuts  plates to be served with a glass of wine.
Address: 7 rue Pleney 69001 Lyon
Phone 04 78 28 31 46
Open from Monday to Saturday  9 am – 11 pm
Open on Monday  5 pm -10 pm
Le bistrot de la botte 5e
Another cosy area in St Georges district,  pallet and stones for surrounding
And of course bottles  from everywhere of regions and of world.
Some  cheese and cold  cuts  plates from Itlay !
We can take advantage of terrace in summer !
Address : 8 rue Monseigneur Lavarenne 69005 Lyon
phone : 04 72 16 26 37
Open from Monday to Sunday  from 10 .30 am
Le buron de Lyon
Subdued lighting …
We taste good wine, they  offers you very nice tasting plates with fresh food , but you  can also eat very good dishes.
You can go to taste wine, before or after a film in CNP La fourmi (screeing in VO),
A welcome  address
Address : 16 rue Fénelon 69006 Lyon
phone : 04 78 26 29 09
Open from  Tuesday to Wednesday at noon  
Open from Thursday to Saturday, at noon and evening